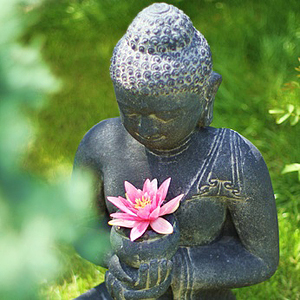 Hello and welcome to my website Hypnogarden.
My name is Sabine Bauer. I am a certified natural health professional and hypno-practitioner and I am working with different alternative techniques like acupuncture, cupping therapy, massage (including the Breuss-Massage), the Dorn-Method (which is a special treatment of the spine) and of course hypnosis.
Ear acupuncture
Ear acupuncture (or Auricular therapy) is based on the principles of Traditional Chinese Medicine and is widely used for many conditions, including addiction treatment (like smoking), obesity, mood disorders, allergies and other conditions. Ear acupuncture can be a very effective method for relieving acute pains as well as chronically stiff joints.
Cupping therapy
Cupping is an ancient Chinese form of alternative medicine in which a local suction is created on the skin, thus mobilizing blood flow in order to promote healing. I use dry cupping to help general physical and psychological well-being.
Dorn-Method and Breuss-Massage
The Dorn-Method is an alternative therapy used to correct claimed misalignments in the spinal column and other joints. It is a gentle treatment in case of pain, numbness or other conditions, which can be acute or might have been chronical for many years.
The Dorn-Method is usually accompanied by the Breuss-Massage, which is a special massage of the spine. With the help of St.John´s wort oil this gentle form of massage is a pain-relieving and relaxing treatment, which is perceived as very beneficial by the patient.
The Breuss-Massage can also be used as a single form of therapy.
Hypnotherapy
A big part of my work is done with hypnosis, which I use for many conditions, like: smoking cessation, weight loss & eating disorders, stress, phobias & anxieties, confidence, motivation & self esteem and more.
In a nutshell, hypnotherapy can generally help with any problem you're finding hard to handle on your own.
But hypnosis can also be an exciting experience by doing a past life regression or a relaxing wellness treatment.
As a hypno-practitioner I work with adults and children.
How to make an appointment
If you have any questions or would like to arrange an appointment please send me an email, use the contact form or call me at 04105/139 14 18.
You will find me in Bendestorf (near Buchholz i.d. Nordheide, Landkreis Harburg).